Kalani's Bio Page
Last Updated: 4/14/06
Recent History:
(and Rants and Raves)
This picture is the new me, in all my glory. I had long hair for over a decade, as shown in all of my faire pictures (before the 2002 season), but after hitting the big 3-0, I decided was time. I hacked it all off, and, while it took time to get used to, it sure is convenient, and my mother, sister, and wife (Jesse, pictured below) all love it. Shortly after cutting it short, I went further and buzzed it military-short. And after that, I decided that I am more the type for one extreme or another, so rather than a ho-hum average joe haircut or a simple buzz, for me, it was long flowing locks of hair, or nothing! Genetics seem to have stepped in and decided that long flowing locks is right out. So bald it is! I shaved my head in the late summer of 2002, just before Burning Man (see below), and judging from the positive reactions I've had, I think I'll keep it. Bald is beautiful, baby, so why fight it!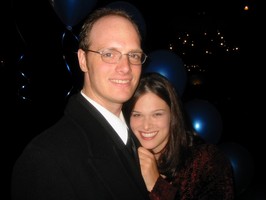 My life is going pretty well right now. It can be hectic, balancing my career, my wife, my social life, my hobbies, and my desire to investigate this odd phenomenon I keep hearing so much about: sleep... but such is life in this wacky world we live in. :-)
I'd have to say the biggest news in my life, of course, is my marriage and purchse of our first home, a really nice condo in Valley Village, even though as I write this it has been a year (or close to) since each of those events, and I've changed jobs and vacationed in Jamaica since! You can see wedding pictures at our wedding site if you're interested. I have lots of pictures of the condo as well, but I'm less inclined to put those on the public internet.
Let's see, more about me. I live in Los Angeles, where I was raised, for the most part (I only lived in Hawaii until I was 4 (my mom's side of the family is there, and I *am* partially Hawaiian, not that I look it).
I really like L.A., believe it or not. I went to college in Colorado, and I spent three years in Manhattan while I dug myself deeper into debt with my "friends", MasterCard and Visa, so unlike many Californians, I've actually lived in other parts of the country. But now I'm back. L.A. is a lot less expensive than Manhattan, so it suits me more. Also, being raised here, I need more elbow room than Manhattan permits, at least at my income level (i.e., well under a half a million per year!) Also, winter in NYC sucks. Since attending college in Colorado, I've seen normal winters... don't think I'm your typical California cold-weather wuss. NY is COLD!
I figured out how to describe Manhattan to people from L.A. (Or perhaps others dwelling in large cities in temperate climates). Move everyone in the city downtown. Add winter, subways, and double your rent. Instant Manhattan! Now please don't take me as someone who hates New York; I miss rollerblading in Central Park terribly, it's just that Manhattan is out of my price range.
Life is much sunnier now. As I said, I am living in L.A., in a sweet 2br/2.5ba condo in Valley Village, a nicer suburb of L.A. in the San Fernando Valley. I share the condo with my lovely wife, Jessica. And it's nice that I live two very small blocks from the apartment we previously shared, and the entire building (6 units) with friends, so we still get to see them a lot (and don't have to sweat parking since we just walk over! Yes, in L.A.!). Anyway, while it's not a house like I would really want, it's a very nce condo. And I have great Home Theatre setups... in the bedroom, as well as the big system in the living room! My computer farm is finally back in my office (aka bedroom #2) where it belongs, so it's out of the living room and into a more private space. I'm slimming it down from what's listed... I just do so much on the laptop(s) and on the living room iMac now, and my server is living in a home with faster DSL than I can get here, so I'm down to one desktop PC at the moment!
I still tool around town in my '93 Lexus ES 300. I'd love to upgrade to something newer, but it's doing ok for now. Homage to the stereo in my car, and more details, is here. I haven't added any video equipment to the system yet, but trust me when I say I'm looking into it. *eg* Meanwhile, my List of DVDs demonstrates my interest in the visual entertainment spectrum. Hint: If you ever want to buy me a gift DVD, check the list first. I have quite a few. *g*
Up until early 2003, I was paying the bills by working in a law firm in Woodland Hills as an Office Manager / Litigation Secretary / Network Administrator. I took a hiatus to pursue my field of choice as a member of the computer staff (IT Dept.) at BLT & Associates, a Hollywood graphics shop specializing in print ad campaigns for the entertainment industry (movie poster, trade ads, etc.), as well as a new movie trailer department. It was a lot of fun while it lasted, but the politics finally got to me and I eventually accepted my previous employer's generous offer to come back at a significantly improved payscale, so while it's still not my dream job, it's easier to be philosphical about it now, especially with a mortgage to think about. :-D I continue to freelance as a computer consultant on my own time, as well, doing random computer consulting gigs around the city. While I'm back on PCs at the law firm, I still think Macs are a superior platform for most (but not all) purposes. Feel free to chat with me sometimes, and I'll be happy to help you figure out which platform can work best for YOU.
Anyway, for those of you still trying to figure me out, following is my list of major interests (Is your notepad out?):
---
My Hobbies:
---
QuickLinks:
Computers
Home Theatre/Car Audio/Digital Video
Scuba Diving / Underwater Photography
Burning Man
Backpacking
Renaissance Faires
Roller Blading
Science Fiction/Fantasy
Other
---
Computers
I'm a total computer nut. My current computer status consists of 5 systems... 3 desktops/servers and two laptops (mixed PC and Mac). More (although not entirely current) info on them and my home office (GeekSpace) is here.
My place is thoroughly networked on a switched Gigabit Ethernet (1000mbps) and 10/100 network, connecting via a series of switches, including a D-Link DGS1008D 8-Port Gigabit switch, a D-Link DSS-8+ 8-Port 10/100 Switch, Oh, and I can't forget the high-speed wireless for the laptops and downstairs iMac, via a LinkSys WAP54G 802.11g wireless access point (fully locked down with WPA security, of course!). My internet connection is via an Adelphia cable modem, which is nice and fast... when it works. It's shared to the rest of the network via an ultra-secure NetGear FVS318 Cable/DSL ProSafe VPN Firewall with 8-port switch. We get great speed with Adelphia, although a static IP address is a pipedream, as is reliable service, but it's the best I can get, as far from the CO as I am. I dream of T1s or SDSL, but for now the line is plenty fast, and it'll do, especially since my server is living at a friend's house with a super speedy DSL line. I still count it as being in my house, though, since I administer it remotely, and it'll come home the moment better internet options become available here.
That's pretty much it for my computers and hardware. Of course, my wife has a pair of laptops as well (a Mac and a PC), bringing the total to SEVEN computers in our cozy abode. More than some offices I have worked in. It's sick, we know, although there are usually no more than three up and running at any given time, since laptops are shut down when not actively in use. *g*
These pages were developed using more HTML editors than you can shake a stick at. I started out with WordPerfect 6.1 with the Internet Assistant add-on, then moved to the shareware HOTDOG Web Editor, then the Netscape Navigator Gold v. 2.0 - 3.0, ran HOTDOG Professional V. 3.0 for a good while, but after I settled on either Macromedia's HomeSite 5.0 or good ol' MS NotePad/WordPad, I pretty much use DreamWeaver MX 2004 (in coding mode) these days. I run a mixed network of Microsoft Windows XP operating systems (2003 Server for the server) and Mac OS X 10.4.
*Phew* That's enough geek stuff. Yes, we are quite the geek house. And it's great! But hardly the only thing I do...
---
Home Theatre, Car Audio and Digital Video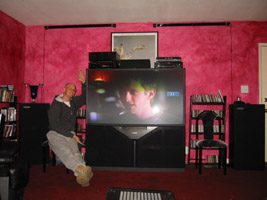 Mmm. Stereos. High end stereos. Ok, so I'm an addict for shiny black boxes and blinky lights. My main home stereo systems currently consists almost entirely of Sony gear. I have a high-end Sony ES Dolby Digital receiver at the heart of the system, Sony 5-disk progressive scan DVD changer, a Sony dual tape deck and VCR (which gets used mostly for the clock!). Just about the only things that aren't Sony are the Mitsubishi 65" widescreen HDTV (my new baby!) and the Hi-Def DirecTivo HD to put sweet, sweet HDTV on my screen. I have a 6.1 surround setup with Klipsch Reference Series RF-35 main speakers, the matched RC-35 center channel, Polk Audio M5 surround speakers and CS250 rear center channel, and a Polk PSW350 Powered 10" Subwoofer. All said, it's more bass than you can shake a stick at, yet fluid and detailed at the same time. And it physically hurts to turn the volume up more than half way, these suckers pound out so much power. *happy contented sigh* The picture on the Mitsubishi HDTV makes me want to cry it's so good. I can't wait until DirecTV adds more HD channels to it's lineup.
My bedroom system consists of a brand new high-end Sony Dolby Digital/DTS receiver coupled with a 42" Akai Plasma TV, a Standard-Def DirecTivo and another Sony DVD changer. I have an ok JBL center channel speaker (that really needs an upgrade) and two decent little Advent Marbl speakers for the surround, coupled with an incredible pair of B&W DM610 reference monitors. I also want to add a nice little Polk subwoofer to beef up the bass, although the B&W speakers are so great it's not really necessary... and I'm sure my neighbors thank me for that!
More detailed information and pictures of both systems can be found on my Home Theatre Page.
All those systems would be pretty useless without something to watch on them (aside from TV, of course), and fortunately, I collect DVDs like crazy. I keep my list fairly current, and you can see the entire List of DVDs. Yes, they are sometimes available for loan to friends and family, but I have to keep a list, because it got to the point where I had 27 DVDs out on loan once, and couldn't find any of the specific movies I was in the mood to watch. Grrr. Meanwhile, if you want to buy me a DVD as a gift of some sort, I recommend checking the list to make sure I don't already have it. *g* I have over 450 of the suckers so far...
My car audio fetish has been around since high school, but only recently have I been able to partially satiate it. I began the process by decking out my Jeep with high-end car audio gear. Naturally, I ended up selling it before I completed things, and was only able to get the amp out of it, but the sound was damn good nonetheless. The amp, fortunately, gained a second lease on life (hopefully a longer-lived one), as I was able to install it into my Lexus as the heart of the new system. More details on both the Lexus and the earlier Jeep system (as it was before I sold it) here.
I've recently become entranced by the possibilities behind Digital Video, and have invested in a high quality kit. I have been video taping friends on stage for years, but with my new kit, coupled with PC-based editing and a DVD-burner, I hope to improve my video skills and actually make some money at it! My video kit is detailed here.
Coming up next: Underwater Video. (See below scuba section) And then? Pro Audio. *hee-hee* We're talking Crown 2000 watt amps, JBL Dual 15" Stage speakers, and at least an 8-channel mixing console, all racked up and ready to pound at events...
---
Scuba Diving and Underwater Photography
I loves da fishies. Well, not so much to eat, perhaps (although a 911 roll from Cho Cho San Revolving Sushi sounds really good right now), but they are entracing to watch. Jesse and I want a bigtime saltwater fish tank at some point, but until then, I figure I just have to go see them at their place... underwater!
Scuba was a passion for me shortly after I graduated high school, but between college in Colorado and living in Manhattan, I kind of lost my way. I rediscovered it in a BIG way, however, shortly after my wife and I took a vacation in Jamaica, and I went diving several times. I am now certified as a professional DiveMaster, and have started towards training for technical diving, which goes beyond normally-allowed recreational limits.
But meanwhile, I'm having a ball with the continuous discovery that is California's (admittedly DAMN cold, compared to my previous diving in Hawaii, Puerto Vallarta and Jamaica) waters, and taking tons of pictures, putting my Christmas gift of a new 7 megapixel digital camera (initially, I've since moved on) and underwater case to good use. Naturally, I've put up a Scuba Pictures website with shots I've taken here, and you can see the progression of quality as I've learned to better control the camera. After moving up to an external strobe, my photos took a jump in quality (once I learned to use it, that is), and now I find myself lusting over a DSLR... but having a blast all the same as I slowly work towards creating real art underwater!
As a certified gear hound in every facet of my life, as you can imagine, gearing up for diving is something I take very seriously. My dive gear is listed here. My general Scuba site, with links, is here.
---
Burning Man
My first Burn was 2001. Changed my life forever. As I write this, it's September, 2002, and I still can't stop thinking about the event. I've already started planning for the next one, but after spending most of last year prepping for the 2002 trip, I'm burnt out enough (and experienced enough) to wait until March or April before I start slowly ramping up preparations for 2003. I still suspect this will be a yearly trip for me until they shut it down. Just what I needed. Another obsession in my life. *g* I have a page of Information and Photos from my past trips for anyone interested in my newest life-long obsession.
What is Burning Man? Well... to borrow a phrase, "trying to explain what Burning Man is to someone who has never been to the event is a bit like trying to explain what a particular color looks like to someone who is blind." You'll have to visit the website at http://www.burningman.com/whatisburningman/ to read more. Let me know if you plan to go... I'd love to meet you on the playa. :-)
---
Backpacking
Back when I lived in New York, when I wasn't blading, I cross-trained by hiking in Harriman State Park, which is many, many acres of barely-out-of-NYC backpacking pleasure. Not much wildlife that close to the city, but it's still pretty remote, for the most part. You're always within 10 miles of a highway, so it's hard to get into too much trouble, yet civilization really doesn't intrude.
Now that I'm back in California, I still keep up my camping and hiking, although it's more for sheer pleasure than cross-training. I don't do it as often as I used to, mostly because I do so many Faires (see above) and my friends here aren't as hard core as my friends in New York were. Doesn't make sense to me, either, but that's the situation. Any rabid backpackers in the Southern California area out there looking for a camping buddy?
I like winter camping the best. People look at you like you're nuts, and refuse to go. Which is the whole point. No people. That's was greatest luxury there was, living in Manhattan with millions of other people in close proximity. The cold only sucks when you're not moving, and that's when the down coats come out and the camp fire gets started. While hauling a 50-pound pack, keeping cool and not sweating is more of a problem than being cold at all. And the cold has an added value -- no bugs at all. But stay away, because unless you're with my group, I don't want to see you out there... that's why I'm there to begin with!
---
Renaissance Faires
I am a dedicated Faire junkie. California is fortunate enough to have both two of the best Faires in the country, and probably the best small-Faire circuit in the world, so I basically can go to Renaissance Faires almost every weekend during Faire season, which essentially runs from mid-March to mid-November! As you can imagine, that makes my life pretty hectic (you try no weekends for errands for 9 months out of the year!), but its well worth it. Faire is a lifestyle for me, not a mere hobby. In fact, I love it so much you can click on the following link to see Kalani's Renaissance Faire Page, an entire separate web site I developed dedicated to Faire.
Personally, I started out a customer (aka "Patron") and ended up a worker (aka "Participant"). I used to sell stuff in one of the booths (Plug: Bullseye Bota Bags, fine hand-made leather wineskins) so that I could get a pass to go to faire for free and stay overnight (it's only on weekends) for the many many many many parties. They rock. Lucky for me, Los Angeles just happens to be home to the original, the first Renaissance Festival, namely the Renaissance Pleasure Faire in Southern California (a/k/a RPFS). Ours also happens to be the best of any I've been to, and I've been to Faires all over this country. California also hosts the afore-mentioned smaller, 1-2 weekend-long Faire circuit as well, and they can be almost as much fun as the larger Faires.
Currently, my recent involvement at Faire has been through the Performing Arts Department (PAD) at the large Faires, as a member of The Guild of St. Cuthbert. At smaller Faires, I attend either as a member of The Guild of St. Bacchus (appropriate, no?), working with the Juggling School led by The Why Not Players teaching juggling at Faires, or with the Guild of St. Louis, playing Rounders (a period form of baseball). The picture above shows me messing around with a set of juggling stix instead of working at the Bullseye Bota booth at the New York Renaissance Festival. I also have worked with Dogs in Doublets, and I hope to work with them again, at some point in the future.
---
Rollerblading
I'm a rollerblading freak. :-) Since I spent three years living in Manhattan, I was happily consumed by the local Rollerblading subculture. I got pretty into it, going so far as to enter the National Inline Slalom Championships and be filmed by ESPN. I took 6th in the speed category and 10th in the freestyle category, and ended up with 7th place overall. Not bad for a mere two years (read: summers) on blades, if you ask me. If you live in New York, you would do well to look into joining NYRSA, the New York Road Skaters Association. Best money I ever spent. Now that I live in sunny California, naturally, I hardly ever do it anymore. Go figure. It's a time thing, and the fact that I have to drive quite a ways to get anywhere worth blading. I really hope to get back into it at some point, however.
---
Star Trek and Star Wars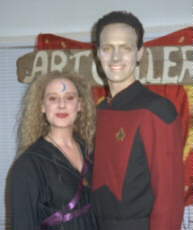 I am really into Star Wars and was really into Star Trek: The Next Generation (when it was still on). Some L.A. friends at Paramount copped me an actual ST:TNG uniform, so I got to dress up for Halloween and the occasional convention. I think this heading might more accurately read "Science Fiction", but what the hell, I've got the picture.
Click here to go to my URL hotlist page with some Star Trek (and Star Wars) Jump Sites.
Recently, given the re-releases and accompanying hoopla, and of course the prequels, I have gotten back in to Star Wars as well, which has been a love since my childhood when I saw Star Wars 8 times in the theatre (Mann-Chinese, baby!). My jury is still out on the prequels, although I seem to have enjoyed them more than some, to hear all the complaining. I'll admit they're not exactly what I was hoping for either, however. Well, at least I got to see both at the Chinese on opening day, without waiting months for tickets. *eg* Don't ask, cuz I won't tell. I enjoy reading the books, too. They have expanded the Star Wars universe considerably. If you liked the movies, I highly recommend reading the books. Start with the books from the movies (or the Lando Calrissian and Han Solo trilogies set before the movies), and move on to post-Return of the Jedi books (Bantam has a ton of 'em). If you're a Sci-Fi buff, you'll thank me.
I have also been dragged, kicking and screaming (at first) into a complete state of addiction to Buffy and Angel, along with a few other shows I regularly watch, such as Smallville, and pretty much any sci-fi shows I can find on (yes, I'm a huge Battlestar Galactica fan (the new one)). :-) Also: This isn't Sci-Fi, but since we're talking TV, find and watch Coupling on BBC America. Funniest goddamn show ever. It's a British "Friends" in many ways, but done without the bullshit American networks insist on (witness the horrendous failure of the American attempt to bring it over here). Pure fun, I swear. Oh, and for American TV, you gotta love How I Met Your Mother.
---
Misc. and Other
Some other hobbies (sorry, no pics...yet) are skiing, tennis, driving really fast, fishing, bowling (I suck, but I had fun in the league I was in), and reading sci-fi and fantasy books. Visual examples coming some day...
Send me mail at kalani@kalani.net

Back to Kalani's Home Page
(All photos on this page are original artwork and may not be copied disseminated or otherwise reproduced without the owner's express written consent)